An ergonomic office chair might seem like an indulgence, but it's actually an investment in your health that can save you money in the long run by preventing you from developing pain-related conditions such as chronic back or neck pain. 
This ergonomic office chair buying guide will show you what to look for in an ergonomic office chair.
What to look for in an ergonomic office chair
If you're planning to buy an ergonomic office chair, here are 10 things to keep in mind as you do so that you end up with a chair that fits your needs and is comfortable and healthy for years to come.
1. Seat Depth
Most offices are filled with desk chairs that don't fit people's bodies properly. A common example is a chair that isn't deep enough for its user, causing him or her to slouch and put stress on their back, hips, and knees.
To prevent these types of discomfort, you want to make sure your chair has adjustable seat depth so you can find a setting that works best for your body type. Every part of you should be comfortable in your office chair. If not, it might be time to invest in another one!
2. Backrest Height
Before even sitting down, have a friend measure from your tailbone to your upper back. Choose a chair with a backrest that hits at least 2 inches below that measurement; too high and you'll be looking up at it all day, which can lead to neck strain.
Too low and you'll be slouching, which is bad for your spine. If you find chairs that aren't adjustable (or if they don't fit you well), try placing 1-inch-thick books beneath your lower back. Better yet, invest in a lumbar support pillow.
3. Seat Width
The width of your seat is one of the most important features you should consider when buying a new chair. A seat that's too narrow will cause pressure points, and make it hard to sit comfortably for long periods of time.
One that's too wide can also be uncomfortable since extra space won't do anything but collect dust. As a general rule, if you're sitting at an ergonomic desk, with armrests on both sides of your chair, there should be no more than two fist-widths between your inner thighs and armrest.
You may want to measure yourself before heading out to buy a new office chair so that you don't waste money on one that ends up being too big or small for you.
4. Seat Shape
What's your body type? Are you petite or plus-sized? Do you have a long torso or short legs? These are all things to consider when deciding which ergonomic office chair is right for you.
For example, if you're pear-shaped and tall, look for a seat that provides both back support and head support. If you aren't sure where to start, search online for ergonomic chairs by body shape. 
The seat shape and design are important considerations when choosing your next ergonomic chair. For example, you may prefer a chair with a minimalistic design as opposed to complex and bulky office chairs.
5. Material
Most office chairs are built with plastic, fabric, or leather. Some feature a combination of these materials. The material that your chair is made from can have a big impact on its comfort and long-term durability.
Some office chairs are even built from metal, including some ergonomic options. If you plan on sitting in your chair for many hours per day (which you probably will), you should look for one that provides plenty of cushioning and feels like it will hold up well over time.
Consider also the seat cushion. Most people think of a chair's seat cushion as simply a way to make it more comfortable; in reality, a cushioned seat is one of your main tools when it comes to maintaining healthy posture at work—it makes sure that your lower back stays in proper alignment by giving support where it's needed most
6. Adjustability
The first thing you'll want to look at is how adjustable your chair is. Many chairs offer a range of different ways in which they can be adjusted, so check out what options are available and find one that works best for you.
For example, does it allow you to adjust both its backrest and its armrests? What about tilt control? Does it have a flexible back or seat pan? And what type of adjustments do these features provide?
If you find a chair with many adjustment features, chances are good that you'll be able to customize it to fit your body—and consequently avoid injury down the road.
7. Armrest Options
The armrests on ergonomic office chairs are there to help you maintain good posture while working. By adding extra padding or adjusting their height, you can ensure that they're comfortable and won't interfere with your workflow.
Make sure any chair you purchase offers adjustable armrests so you can set them up just right.
8. Lumbar support
The most common complaint that office workers have is low back pain. Invest in a chair with lumbar support, which will help align your spine and keep it aligned.
If you're not sure how much lumbar support is enough, then err on the side of caution and get one with more padding. You can always remove some if it proves to be too much after all.
9. Weight capacity
Typically, ergonomic office chairs have weight spans ranging from 250 lbs to 400 lbs. The larger a chair's capacity, generally speaking, the more it costs. 
But high-quality seats will often be rated for higher weights than those with less expensive price tags. At minimum, look for a seat that supports up to 250 pounds; anything less and you may be sacrificing comfort or stability
10. Swivel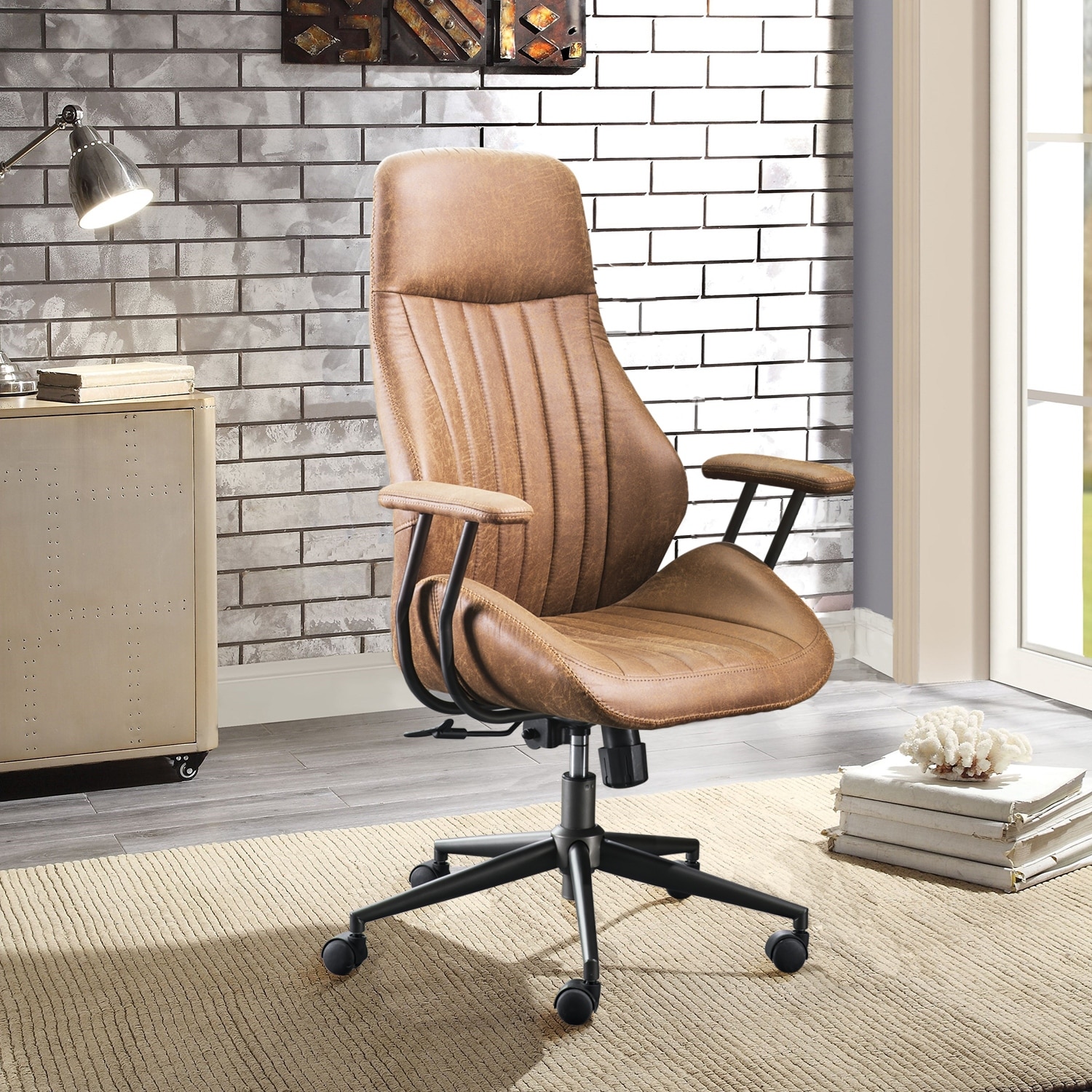 You want to be able to move around in your chair and swivel while sitting at your desk. The ability to swivel is especially important if you work with multiple clients, as it makes it easier for you to turn and face a client when talking with them. This guarantees maximum work efficiency without causing too much strain.
The different types of ergonomic office chairs
Traditional office chairs do not offer the same benefits as ergonomic chairs. For this reason, there are different styles of ergonomic office chairs designed to provide comfort, support and create a good posture.
Here, we are going to look at the different types of ergonomic chairs which are worth checking out:
Kneeling Ergonomic chair
This type of ergonomic office chair is designed to maintain a healthy position by supporting your back and keeping you in good posture. These chairs are ideal for those who work on their feet all day. 
They are also great for those who suffer from back pain or bad posture. The main aim of these chairs is to promote a natural position and relieve pressure on parts of your body, such as your hips, thighs, and lower back. 
We highly recommend checking out a kneeling ergonomic office chair if you want effective support while at work.
Saddle ergonomic office chair
This type of ergonomic office chair is designed specifically for tall individuals and those who have long legs. They provide excellent lumbar support and adjustable height options, so you can find a comfortable position.
The saddle type allows your feet to rest flat on the floor, promoting good posture when sitting at your desk. This is also ideal if you suffer from any pain in your lower back or legs due to sitting down all day.
Recliner chair
This type of ergonomic office chair is usually recommended for those who sit at a desk all day but are also suffering from back pain. The main function of these chairs is to provide support while you're sitting upright at your desk and can even be used as a sleeping position. 
As these are considered as orthopedic chairs, they can be expensive, but worth checking out if you're looking for affordable comfort.
Exercise ball ergonomic chair:
The last type of ergonomic office chair that we are going to look at is designed as a cross between a stool and an exercise ball. These chairs have built-in stability balls that can be used while working at your desk or during relaxation.
They are great if you're looking for something to keep you active throughout your day, but also promote good posture when sitting down.
The aim of these chairs is not only about comfort but also about improving your body's muscle tone, flexibility, and cardiovascular health.
Final Thoughts
Overall, choosing the right ergonomic office chair can be tricky. How do you know if a particular model is truly ergonomic? After all, chairs come in so many different designs and styles that it's hard to tell what features truly matter and which ones are just gimmicks.
You don't want to spend hundreds of dollars on a chair only to find out that it doesn't actually improve your health or comfort at work. You also don't want a cheap chair that isn't comfortable or helps with back pain.
By keeping the above factors in mind, you will know what to look for in an ergonomic office chair be able to select a chair that truly fits your body type and habits without breaking the bank.